According to a report from Politico.com, Ukraine apparently attempted to interfere with our election on behalf of Hillary Clinton.  But good luck finding wall-to-wall coverage about their efforts. 
Let's count how many hours @cnnpolitics and @msnbc will devote to reporting about this.
From the Politico report:
Ukrainian government officials tried to help Hillary Clinton and undermine Trump by publicly questioning his fitness for office. They also disseminated documents implicating a top Trump aide in corruption and suggested they were investigating the matter, only to back away after the election. And they helped Clinton's allies research damaging information on Trump and his advisers, a Politico investigation found.
Remember those reports around Paul Manafort? Apparently Ukraine had a hand in that too.  From the Politico report:
A Ukrainian-American operative who was consulting for the Democratic National Committee met with top officials in the Ukrainian Embassy in Washington in an effort to expose ties between Trump, top campaign aide Paul Manafort and Russia, according to people with direct knowledge of the situation.
The Ukrainian efforts had an impact in the race, helping to force Manafort's resignation and advancing the narrative that Trump's campaign was deeply connected to Ukraine's foe to the east, Russia. But they were far less concerted or centrally directed than Russia's alleged hacking and dissemination of Democratic emails.
Read the full report at Politico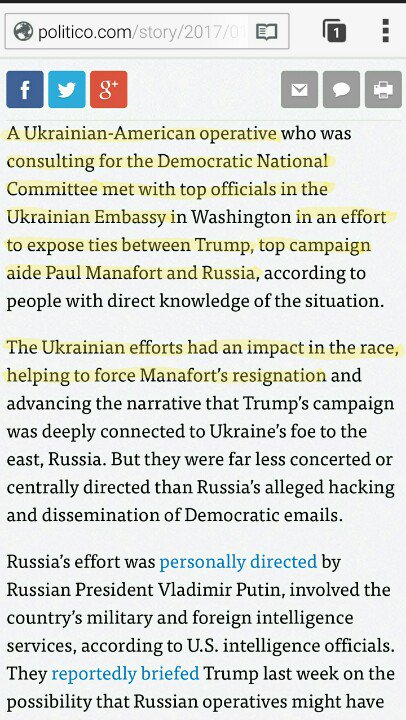 Source: http://www.politico.com/story/2017/01/ukraine-sabotage-trump-backfire-233446